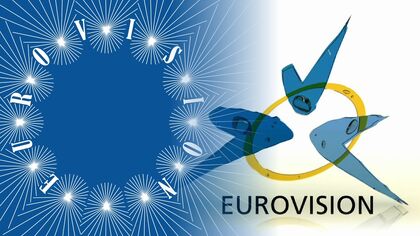 SEMI FINAL 1 – May 22nd 2012 (Performance order)
The top 10 songs in this semi final will move forward to the Grand Final on May 26th.
MONTENEGRO
Rambo Amadeus will sing "Euro Neuro"
ICELAND
"Söngvakeppni Sjónvarpsins" chose "Mundu Eftir Mér" (Remember Me) on 11th February 2012. Subsequently, public broadcaster RUV decided the song would be sung in English and "Remember Me" became "Never Forget".  Same idea, but stronger sentiment.
GREECE
The Greek National Final selected Eleftheria Eleftheriou with the song "Aphrodisiac" on 12th March 2012.
LATVIA
National selection, Eirodziesma, chose "Beautiful Song" performed by Anmary on 18th February 2012.
ALBANIA
National selection, Festivali i Këngës chose "Suus" sung by Rona Nishliu.
She'll be the first Kosovar singer to represent Albania. She was born in Mitrovica.
ROMANIA
National selection chose Mandinga with the song "Zaleilah" on March 10th 2012.
SWITZERLAND
National selection, Die Grosse Entscheidungs Show, chose "Unbreakable" sung by Sinplus on December 10th 2011.
It was the first song selected for 2012 Eurovision Song Contest.
BELGIUM
Internal selection chose Iris to sing "Would You?"
FINLAND
National selection, Uuden Musiikin Kilpailu, chose Pernilla Karlsson singing the ballad "När Jag Blundar" ("When I close my eyes") on 25th February 2012.
ISRAEL
National selection was planned, but because of scheduling problems suffered by public broadcaster IBA, the decision on the song for Baku was made internally. The band Izabo will perform "Time".
SAN MARINO
Through internal selection SMRTV chose Valentina Monetta to represent San Marino singing "Facebook (Uh, Oh,Oh.)"
However the song was found in breach of EBU rules against commercial messages and either new lyrics or an entirely new song must be chosen.
SM opted for the new lyric route.
Here's the original.
CYPRUS
National selection, Ένα τραγούδι για την ΄Ηβη/A Song for Ivi, chose "La La Love" sung by Ivi Adamou to represent Cyprus in Baku.
DENMARK
National selection, Dansk Melodi Grand Prix, chose Soluna Samay singing "Should've Known Better".
RUSSIA
National selection chose six grandmothers from a rural village in Russia, Buranovskiye Babushki, singing "Party for Everybody
HUNGARY
A Dal, Hungary's national song contest, selected Compact Disco singing "Song of our hearts" on 11th February 2012.
AUSTRIA
National selection, Österreich Rockt den Song Contest, chose Trackshittaz singing "Woki Mit Deim Popo" on 24th February 2012.
MOLDOVA
National selection chose Pasha Parfeny singing "Lăutar" on 10th March 2012.
IRELAND
National selection, Eurosong 2012 on the "Late, Late Show" selected Jedward singing "Waterline" 24th February 2012.